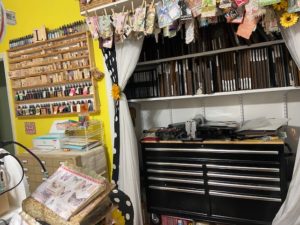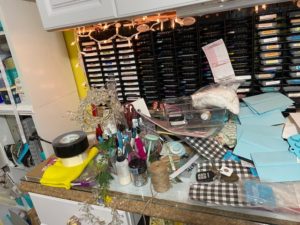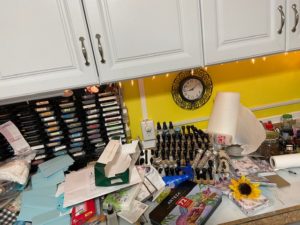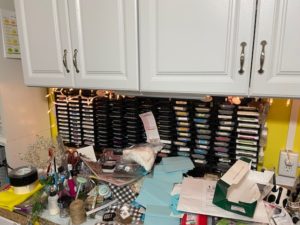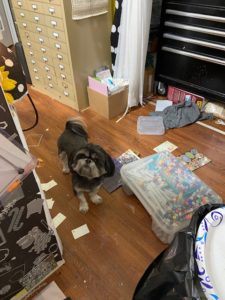 The old adage of things get worse before getting better, friend that is a very true statement.  In the last picture you see sweet Molly (Ms. mischievous)   with a puppy look like "Mommy why can't I walk in here", well puppy girl it will be better soon.
Before I get much further along with this post, my husband and I attended Bible study tonight at our church in nearby Guntersville, AL.  Part of our study is a reference to the sense of humor God himself has and how in my humble opinion with my life, I'm sure I bring some joyous laughter.  The "oh dear", comment is something I often say when in disbelief of the obvious.
With that said, I was able to get a broom standing in my kitchen. Without assistance.  I can get the darn thing to stand there, however it isn't operating on its own.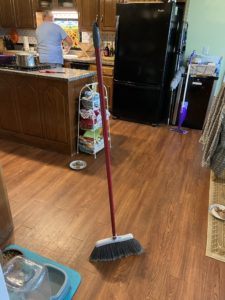 New Years' resolutions are a waste of time.  I instead have adopted the principal of having a "word" by which to try and emulate in my daily life. This years word is Service.  If I am going to serve or be of service, this mess has to get back into order.  Today at a routine doctor's appointment my physician is wanting to buy some of my cards for use in his practice.
Changes in the last week.  The copic cart I have is now re-organized with markers back in their proper place, in order and a hand color chart complete.  Things on and in the cart have been purged.  I have some pens, markers, etc., I plan to donate to a friend who has little ones.  The cart is now "zoned" with the top tier for the copics, the middle and bottom for watercolor media, materials brushes and the like.
I am also currently excited to be learning how to do journals that are handmade to hopefully both use and sell.  Check out my Ebay store for more information.
I am grateful to be able to give of my time and my love.  I have been invited to join the church's praise team.  I am doing interpretative sign language during the music portion of the service.  Though the sign language is a little rusty I am happy and grateful to contribute toward worship in this very special way.
Back to our regularly scheduled program.  Compare the pictures above with the last organizational post.  Hopefully you will see the progress and I hope this encourages you to keep on with your goals, adopt a word for yourself, live it out and give GLORY TO GOD throughout !  Until next time…
Stamp happy and be a blessing!