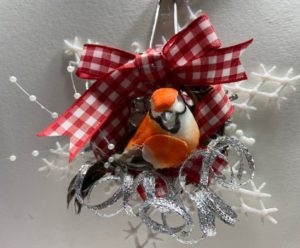 Bird Christmas Ornament
Shepherd's Cove Hospice 2020
BY: Loretta Rodger
Supplies:
Small wreath
Stretchy cord
Scissors
Hot gule/glue sticks
Curling ribbon
Floral berry picks
Large and small snowflakes
Ribbon
Floral bird
Instructions:
Place stretchy cord onto back of ornament and tie into place.  This will act as the ornament hanger.
Wrap ornament with ribbon loosely.  Attach bird to the inside of the wreath using a generous amount of hot glue, being sure to use reasonable caution and not burn yourself.  Once you have the bird in place, use the curling ribbon and blue beneath the bird as desired.  Place the floral berry pieces were desired.
Tie a loose bow for the top of the ornament.  You may also wish to attach one or two snowflakes on the back of the ornament with hot glue to finish the piece.  This can also be worn as a pen. To do this, you will simply place a bar pin to the back of the piece and wear it this holiday season.
Here's the video:
Until next time.. stamp happy and be  a blessing!