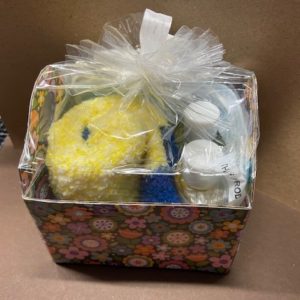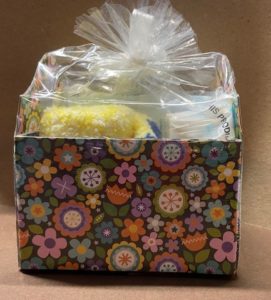 Hello crafty friends!
  Today's project is verily easy to create, yo will need the following supplies:
Two pieces of lightweight chipboard that measure 8 1/2″ X 11″ covered on both sides with the patterned paper of your choice, I use Yes paste to apply the paper. 
Bone folder, stylus, paper trimmer, scissors, E6000 glue and hot glue. 
You will want to cut the pieces of the die out twice.  Once these are cut, using the remnants you will cut two strips that measure 3″ X 7″ scored 1″ from both ends.
Now it is a matter of assembling.  
Start with one end and place the bottom into place, then place on the two sides and finish up the other side of the box.  Using the scraps you will reinforce the bottom of your box.
To package I used the twist tie bags from Walmart, which you can use a heat tool to shrink the plastic to fit the box.  I used a simple ribbon tie and cut off the excess bag.
At a craft fair I would charge $8.50 which is also the price I charge at my Vendor Booth. 
Leave me a message should you have any questions.  Here is the video!
                                              Stamp happy and be a blessing, until next time.