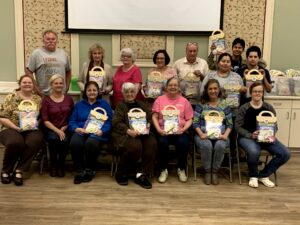 In total we had 16 folks attend our April, 2022 meeting.  We are now somewhat back on schedule for meeting the second Thursday of the month.
This night we made a fun package that included a word search book pen, highlighter and handmade book mark.  We also made a button for the packaging. You an see it in this photo!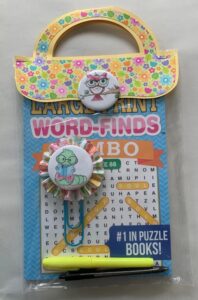 There are several more pictures, however for some unknown reason, word press is not allowing me to upload more photos at this time.
Cove Crafters is a group which supports Shepherds Cove Hospice  Our group makes between 80 and 120 gifts for the patients and families of this organization.
If you would like to contribute physical items (craft related) or a monetary donation please contact Shepherd's Cove directly or use "Cove Crafters" as an email title to:  Ms.Rhetta@gmail.com.
Have a great day!  Until next time… stamp happy and be a blessing!