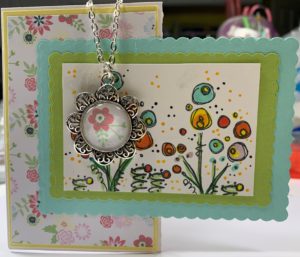 Polkadooles
Card Base:  11″ X 4 1/4
Sore 2/34 and 5 1/2″
Inside layers:  5 3/8 X 4 1/8
5 1/4 X 4
2 3/4″ panels: 2 5/8 X 4
2 1/4 X 3 7/8
Front of card uses nesting scallop rectangles your choice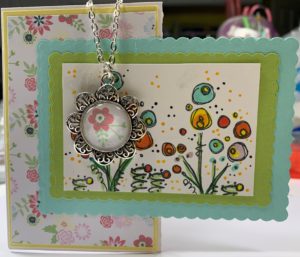 All patterned paper is from Polkadoodles.  Other supplies are from my pesonal collection.
Make the necklace, use patterned paper 1″ circle or cut it out apply glossy accents to back of the paper and the bezel, attach together, Wipe off any excess and let dry.  Thread a chain through the piece.
Attach it to the card using low tac glue dotws.
Entire project was about 45 min. Leave questions in the comment section below.
Stamp happy be a blessing!!