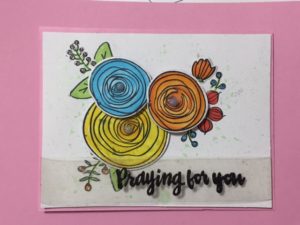 Hello Friends, above is a floating sentiment card using stamps from Simon Says Stamp Simon Says Stamps and Dies (SKETCH RANUNCULUS Set261SR) .  This will give you something pretty to look at while you read this post.
Driving lessons.  Recently I had to make a difficult decision parents sooner or later have to make in and for the lives of their young adult children.  Psychologist and Physicians alike call this tough love. I call it enabling success.
When speaking with my son, I reminded him about what we've taught him in the driving arena. Because he did not get his drivers licence until October of his senior year of high school.  It was a difficult time in general as my husband was in Afghanistan.  Months of lessons and mandatory time with a state approved driving school did eventual pay off.  It did take my husband a day out with the kid doing parallel parking.  ( A day for the record that will live in my memory forever) .
While on this journey, our obvious dislike of fellow drivers became all to apparent.  I will say that my soul stayed pretty cleaned up due to the constant prayers for life and limb.  He has become a wonderful young man and a great driver.  In spite of or because of the experiences.
During driving on I95 in Maryland, We would remind him to drive 2 car lengths ahead. In other words, be aware of your surrounds, make plans according to what you see and what you want to do next.  It's great advice for everyday life.
In life, we need to drive two car lengths ahead (at minimum) we need to be on the look out for things that will affect us, in a positive or in a negative way.  We need to learn to put on the breaks.  We need to know when it is safe to pass and when it is best to stop. Sometimes, even in traffic sudden stops are unavoidable.
As his mom, which it is my pleasure and joy to be, it is also time for me to drive two cars ahead.  On second thought it is time to hand over the keys and allow him to drive.
From my heart to yours. Stamp Happy and be happy. Until next time . . . . .