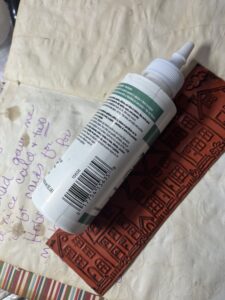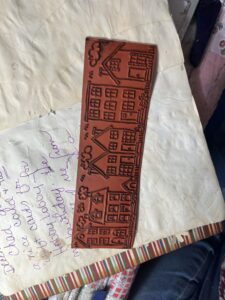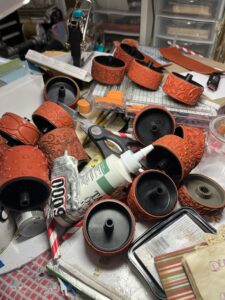 Over the years, like many of you I have "collected" craft supplies.  That includes those Stampin Up© Stampin Around © wheels.  There was a time that Stampin up even created a special guide to help keep the wheels straight while using them.
Those didn't really work.  There was also the problem with the ink cartridges that were difficult to change or even recap for storage.  
The video shows how simple it is to remove the stamp (basically just red rubber) from the wheel.  Once they are off the wheel, check the back for left over old adhesive.  I found it easy to remove this by pulling it free of the stamp.
Next you will want to use some Aileen's tac it over and over glue.  I use a disposable cheap paint brush to apply the glue to the back of the stamp.  You will want just a small amount and cover the surface well.  Set the stamp aside and allow the glue to dry.  This process takes around 3-5 minutes according to your climate.  It may take longer in more damp environments.
Once they are dry you can store them.  I laminated some 8 1/2 x 11 cardstock and use those for storage.  obviously you can make these any size that will be suitable for your own organizational system.
One of the best parts of removing the stamps from their bases is the use of them for making slimline cards.  When stamping I place my stamp on my MISTI,  my coloring preference is Copic markers.  Since they are alcohol based it is important to use a good quality cardstock and ink.  My personal preference for ink is Momento Tuxedo black.  Cardstock preferences are the Walmart Hammermill #110 cardstock as well as Xpress It blending card.
The stamp can be inked and colored just like any other stamp.  Super easy, super fun.  I do hope you will give unmounting and giving new life to your stampin up retired supplies.
Please email me with any questions or leave a comment below.  Have a great week, stamp happy and be a blessing! Until next time!