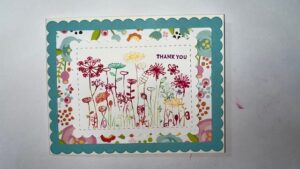 Supplies: (affiliate links used at no additional cost to you) 
View the video by clicking here:
The highlight of this video is to show you can ink a stamp using markers, as well as the rolling ruler that keeps things straight.  It is a purchase you won't regret making.  Because it is smaller, it easily fits into the hand of a crafter, it is easy to read and use.
This is a project you will want to make for yourself.
Want to help support my channel, blog and most importantly ministry?  Click here to make a paypal donation.  Thank you all for your continued support.  I look forward to making more videos.  Have a great week until next time, Stamp Happy and BE A BLESSING!
— Loretta