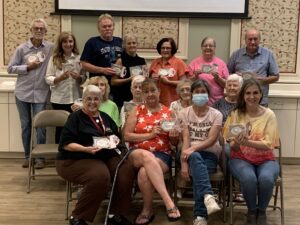 In full disclosure, the first draft of this blog post was deleted.  Mostly because my current word of the week is "Frustration".
Back story:  I'm not good at writing instructions or doing PowerPoint type presentations. I'm honestly just not that smart.  My wonderful husband who should be sainted is.  He makes me look good.
This club meeting can best be described with the word kerfuffle. If you would like to have a copy of the instructions for the encouragement book made on August 11, 2022 please email me at: Ms.Rhetta@gmail.com with "August club meeting" as the subject matter and I'll gladly give you those.  Please note this is a power point presentation.
Let's change the subject… recently I was once again honored to be on the internationally televised #AbundantTv show with #ICRadio and award winning hostess (and friend) #DonnaFeazell.
Have a great week!  In love and service.