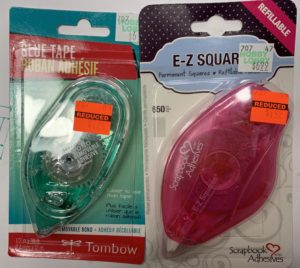 Oh my gosh!  I had people at my local Hobby Lobby look at me strangly when I literally squealed in delight at the clearance isle in my store.
I didn't pick up just a few things, I tried to lay my hot, dare I say a bit selfish hands on every adhesive they had on hand in the clearance section.
For the non-crafters among us (you're in my prayers, life will get better! haha!)  to put this in prespective, many tape adhesive runners used by crafters are $7 to $10 each.  Especially the ones that are refillable.  Which makes this haul even more fabulous.  I do not remember *ever* seeing adhesive tape runners, glue dots, pop dots and such at such low prices.
I hope you will find these type of good deals at your local store!  Please ask questions in the comments section or email me directly at Ms.Rhetta@gmail.com
Until next time, stamp happy and be a blessing!