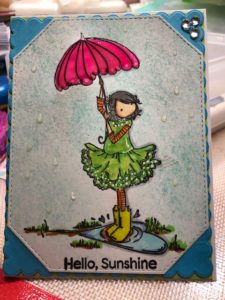 Stamp image onto Copic quality card stock using licorice ink.  Color with copic markers.  I created a mask from a piece of scrap notebook paper.  
  Pounce inks over mask onto card stock to create a "stormy" sky.  Decorate with glossy accents and finish off with droplets of glossy accents that resemble rain drops.
  I layered mine onto an A2 card base with Green and pool blue card stocks.  If you have questions, leave a comment or email me at: Ms.Rhetta@gmail.com.
  Coming soon, Online an Local class'!  I am excited about some upcoming changes that I am sure you will all enjoy as well. So please be patient as my blog editor (Geek websites) continues to improve this site! 
  Stamp Happy and be a blessing, Until Next time….