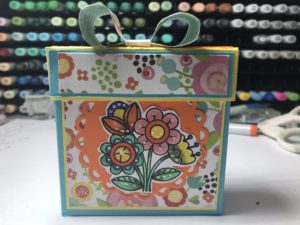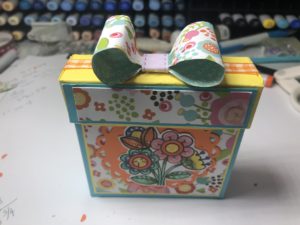 I plan to charge between $3-6 for this box according to what is placed inside and the price of those materials.
For today's project you will need:
2 Pieces of Cardstock (I used one color for the top and one for the bottom and then used the scraps for layering),
BOTTOM:  8″ X 5 1.2″ cardstock
Score at 3 1/2 and 4 1/2 then turn and score at 1″ on the other two sides.
cut  to the middle, fold on score lines and glue  the middle pieces to form the box.
LID:  5 5/8″ X 3 1/8″ cardstock
Score at 1″ on all 4 sides.  Cut those middle pieces and glue into place.
TO DECORATE
BOTTOM
Cardstock: 3 1/2 X 4 1/2″ and patterned paper 3 1/8 X 4″ apply to box
LID of box
Cardstock: 3 1/2″ X 7/8″ and the patterned paper 3 1/4 X 3/4″ 
For my box I used the large bow die from #PinkandMain .  This was cut from paper that coordinated with the layers of the box.
For the front decoration, I cut approximately a 3″ scalloped eyelet circle die , from a coordinating Orange cardstock.  This was layered onto the front of the box and decorated with the flowers from #PinkandMain pocket of sunshine die. 
This box will comfortably fit 5-6 cards that measure 3″ square and their envelopes or two 3″X3″ Sticky back notes and a small pen.  Please enjoy the video and contact me via comment below or by email if you have questions!  Email: Ms.Rhetta@gmail.com.   
Stamp Happy and be a blessing. Until Next time!