Hello friends,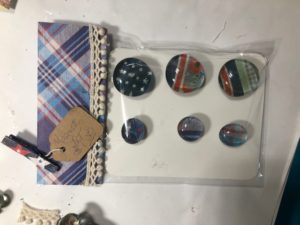 The internet gremlins will not allow me to rotate that picture so you see it straight up and down.  The phrase "the road to hell is paved with good intentions", comes to mind.
For today's project (pinterest and YouTube inspired) will need a few supplies and they are as follows
Glass flat back marbles  Large and small glass marbles.
Glue Dots
Lace
scissors
scrapbook paper scraps
Glue (glossy accents)
Instructions:
Simply apply scrapbook paper to the bottom of the marbles with glossy accents.  Sand any excess off.  Apply a magnet and package.  Video tutorial below.  To watch this on YouTube, click here. 
Until next time, Stamp happy and be a blessing!
Live joyfully!