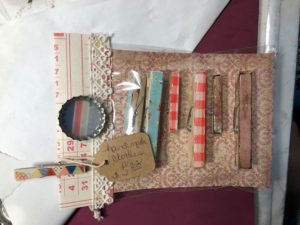 Hello my friends!
I am beginning a new series here on my website as well as on my Youtube Channel. This year a long aspired dream will come to fruition. I have for many years wanted to make and sell my crafty items at a Craft Fair.  This year is a first for me.
I feel it is a great opportunity to share what I'm making, what prices I'll be charging as well as the success and failures of my endeavors. Today, you will see in the video above, an honest view of what my craft desk is looking like. It is a hot, but wonderful mess.  I normally do not have as many things out for a project, today, I was frankly lazy and just didn't tidy as I went along.  It did not act as a deterrent in the least.
Some of the items I have made so far are prayer boxes,  Stationary boxes, Clothespin sets, blank journals and bottle caps.
Please follow my journey.  I hope you'll subscribe to my newsletter for more updates!
Stamp Happy and be a blessing, until next time!