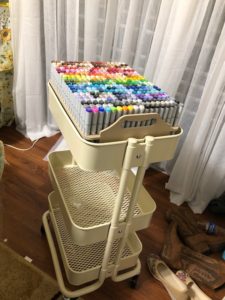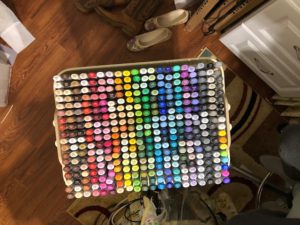 Hello my friends!
I have received several YouTube messages, private messages and emails from folks who are concerned about my de-stashing of copic markers. Let me re-assure you, I do not plan to *ever* give up my copic markers, or coloring, ever.  Coloring is one of my upmost passions as a crafter.
The carrier that fits inside of the Raskog cart from Ikea purchased from Amazon.  For the cream one click here.  If you prefer another color and would like the link associated with my affiliate account, please email me directly at Ms.Rhetta@gmail.com and I will happily send you the information you desire.
Want to purchase new Copic markers?  May I suggest Copic 72 Marker Set A. Click here<–.  For Copic 72 Marker set B Click here <–.    For Copic 72 Marker set C. Click here <— .  For Copic marker 72 Set D Click here<—.   For Copic Marker Set E Click here <—.  If you have not already downloaded "Honey" the web browser app you should.  I use it several ties every week and it really does save money.  Please note, all links for the Copic marker sets are Amazon Affiliate links and in the interest of full disclosure I do receive a small percentage of the sales.
The Website store is being populated.  There are more items from Doodlebug being added daily.  Also, please take the time to check out the new design of the website.  The Etsy store name has also changed so please go check out what treasures I have for sale there as well.
Have a great week.  Life joyfully.  Stamp happy and be a blessing until next time…