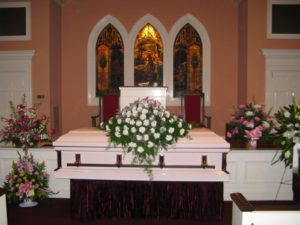 Just like in years past, I am making this post in loving memory of my sister, Barbara.  It doesn't seem like it has been 10 years since that faithful day when she passed on.  Leaving behind many unanswered questions, a wake of guilt, remorse and "what if".
I am here to tell you that guilt and "what if" especially when they are formed as questions, only get the answers you're looking for.  The answers WE all look for.  Here's the truth, sit down, I'm about to spell it out in plain simple language for you.
Just in case we've (or I) have forgotten, in the end we win.  Jesus conquered the grave.
Jeremiah 29:11-14 
New International Version (NIV)
11 For I know the plans I have for you," declares the Lord, "plans to prosper you and not to harm you, plans to give you hope and a future.12 Then you will call on me and come and pray to me, and I will listen to you. 13 You will seek me and find me when you seek me with all your heart. 14 I will be found by you," declares the Lord, "and will bring you back from captivity.[a] I will gather you from all the nations and places where I have banished you," declares the Lord, "and will bring you back to the place from which I carried you into exile."
Please commit this passage to your memory. More importantly to your very heart and soul.  It speaks volumes.  Such simple truth that in the middle of struggle, sickness, death and even in joy that we need to truly remember and grasp.  HIS PLAN. Not mine.  HIS PATH. Not mine.  I don't have to "like" the road I'm on, I don't have to like those around me.  I do have to love them.  A love that Christ showed to us all.  The one that enabled him to give himself freely to walk among us, and then ultimately die for us.
So today, as I think of this precious woman who would have also celebrated her 52nd birthday today, I am grateful that for the short turbulent years she was in my life, that I learned what grace looks like.  So from my heart to yours, Happy Birthday, Barbara.  Happy heavenly birthday, little sister.
Love,
Loretta